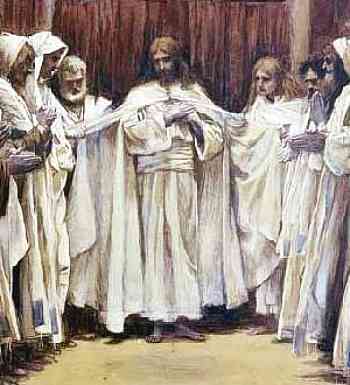 Resist Not Evil


by haRold Smith
from Jerusalem, Israel


"...and they went into an house. And the multitude came together again, so that they could not so much as eat bread. And when his friends heard of it, they went out to lay hold on him: for they said, He is beside himself." Mark 3:19-21



About 15 years ago, after having 'resurfaced' in the Spirit, this verse from Mark landed on my spiritual doorstep and stopped me dead in my tracks. This phrase, "beside Himself" in the original language means, "to be insane." His friends, people who knew Him well, sought to restrain Him because His behavior caused them to think that He had, literally, lost His Mind. I asked myself, "What kind of an individual would behave this way? What would CAUSE this kind of behavior, particularly in someone of His Prestige?" I realized that, after having walked with Him for the better part of two decades, although I thought I knew Him, I didn't really KNOW Him - not really intimately. Not the way you would know a spouse or a friend closer than a brother. I realized I didn't know what was at the core of His Being - what motivated Him.

So, I set out to fill this void, to know Him, to find out Who He Was. I began doing research, digging into scripture but it soon became apparent that all I was gleaning was just more knowledge, mostly thoughts of others - not an intimacy. Stymied, I pushed it all aside and turned to the Lord and asked if He would help me since it was He I really wanted to know about. He replied, "OK, Harold, I will do that. To start with, however, you will need to divest yourself of everything you ever thought you knew about Me, everything you have ever been taught about Me, everything anyone has ever said about Me. After you have done that, become involved with My Life - just what is chronicled in scripture. Don't add anything to it, don't presume it to say something that is not actually recorded there - just look at My Life and nothing else. If you don't have an understanding about something, ask Me and I will give you wisdom."

I have not been the same since. What I discovered was that a significant amount of what I had embraced I had heard from the lips of others and, trusting those persons to have done the proper legwork in research and prayer, never bothered to research and pray over those things myself. There were a few things He picked out of the trash heap and put back into my life - but not much. I was astonished to find that much of what I had been taught, even with good intentions, had been to further someone else's religious agenda and had no correlation to the Life He lived as an example for us to follow. His Life is to be the standard by which everything else is measured. Not what I 'think' that Life to be but what is first revealed by the Rauch haKodesh (the Holy Spirit) and is subsequently verified by what is recorded in scripture. Then, even the rest of scripture is to be measured against that Life (John 14:6 click on highlighted reference for the scripture).

The things Yeshua spoke of can be summarized into three areas - knowing the Father (John 17:3), hearing His Voice (John 10:27), and Becoming Obedient to what He speaks (Philippians 2:8). The whole of our life in Him is centered around these principles. He is the God of circumstance and He uses circumstances to shape us into His Likeness (Romans 5:1-5) - to CAUSE those three aspects to become a pivotal part of our life.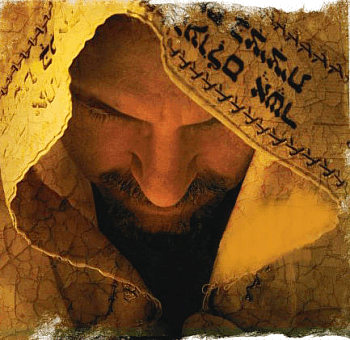 With the onslaught of recent global events that seem to just go on and on, one after another, there are many of you who are searching for your place in Him today. Surrounded by, seemingly, unfathomable situations you are asking, "How do I do this?" Let me say straight off that I don't have all the answers to your particular situation and my prayers are no more effective than yours. I don't have access to anything that is not readily available to you. I can only speak from my own experience with the Father and that experience has been that when I quit 'trying' to find my place, He took me to it - and it was right where I was. It took me the better part of 30 years to discover that we carry the Kingdom within us (Luke 17:20-21). It goes where we go. We don't have to go to great lengths to find it - when we embrace His Life, we ARE it! We can trust our lives to Him that, if our hearts are pure about knowing Him and our spirits have become humble and contrite before Him, He WILL reveal Himself to us in the middle of whatever circumstance we find ourselves in - regardless of how severe or how insurmountable it may appear to be (Psalm 34:17-19 Amplified).

The Way He shows Himself, however, may not be the way we want or expect. For me, that is what makes this Life in Him so exciting - I never know what is going to happen next. God is more intent on preparing our spirit to live with Him in eternity than He is on the immediacy of our present circumstance. Yeshua said to 'enter in at the narrow gate'. The Amplified says, 'the one contracted by pressure' (Matthew 7:14). Most of us want to recoil and react to the pressure and frustration we feel from the externalities of life, thinking them to not be God. But, Yeshua said, 'therein is the pathway to Life'. It is under pressure that we find out what is really in our hearts - it is the refiner's fire that causes the dross to surface. It is only natural to want to distance ourselves from the uncomfortable and inconvenient, but that is precisely the place where God is shaping and molding us to be 'fit' for the work ahead. Paul said that he had abounded and he had been abased, but in whatever state he found himself in, he had learned to be content with the Father's plans for his life (Philippians 4:11-13). That meant right where He was. If the Lord wanted Him to be moved to a different place, Paul knew Him well enough to know He was big enough to move Him when it became time if he, Paul, was submitted to the will of the Father.

Most believers today place themselves in a real dilemma when they pray, "I want to be like Jesus" and "Fill me up with your Spirit, Lord." They don't recognize that Spirit to be in opposition with and contrary to the very ways of this world they have become accustomed to and acquainted with. Yeshua said we can expect tribulation in this world (John 16:33, Matthew 5:44-46), it is in the way we respond to that tribulation that determines how much of the Father's Nature comes to the forefront of our lives. When the Father picks up His shaping trowel of tribulation to answer our prayer to make us like Him, we don't want to endure the pain those externalities bring into our life, so we begin to pray for the Lord to remove them - or move us out of them. Being the perfect gentleman that He is (He will never force Himself upon us), He backs off and leaves us be. After a while, realizing our lack, we start the whole process over again. We effectively 'nullify' or 'bring to none effect' our prayer by our choice of action (Mark 7:13).

There is a shaking that has come to this world (Hebrews 12:26-28). This shaking is going to provide us with ample opportunity to either embrace His Life or embrace what the world has to offer as a remedy to the pain the immediate circumstances evoke upon us. As the days progress, we are going to find it increasingly more difficult to participate in and remain involved in the designs, devices and inventions of man as they become exacerbated by world events - without compromising our trust in Him. Just how we take 'the Mark' of man is shown in John 6:66 in the unwillingness of many disciples to endure the narrowness of His Life. This is what He meant when He said to 'Resist Not Evil' (Matthew 5:39-40). If He lived it out in His Life as the example for us to follow, then if we follow Him, we will live out that life as well. If we embrace the confines the world would put upon us, becoming vulnerable to those confines, we will find those confines to be the very channel that will CAUSE Him to be manifested in us and through us.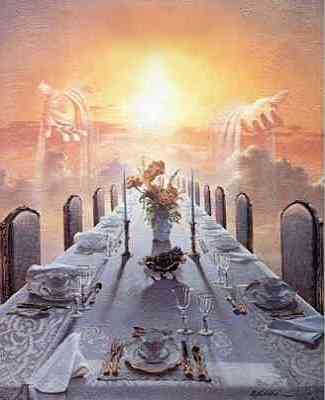 To walk in His Spirit means we are to lose our life, to be stripped of those things we are trusting in and holding onto that keep us from knowing Him so that His Life might become pre-eminent in ours (Matthew 16:24-26). I understand this runs afoul of much of the 'comfort theology' that is being promoted today, but I don't find that theology evidenced in the Life Yeshua lived as an example for us to follow nor in the subsequent lives of the disciples - all of whom left this physical world penniless. But they became rich in the Knowledge of Who He Was and what His Life meant. They didn't NEED the riches of this world to promote the gospel. Yeshua invested Himself in the lives of twelve men and they did likewise. Their investment in relationship revolutionized the world. Why should we believe there to be a better way today than the Way He exampled for us how to live then?

The Lord God Almighty is calling us to join Him at His banquet table to feast on the riches found in His Glory. In John 17:3, Yeshua says "this is eternal life" - to Know God and the One Whom He has sent. To know His Way, the nuance of His Character and the Nature of His Holiness. I have found Truth to be in just knowing Him as my Friend (John 15:15). and trusting Him to guide me into all Truth (John 16:13, 1John 2:27).



"Though he were a Son, yet learned he obedience by the things which he suffered; And being made perfect, he became the author of eternal salvation unto all them that obey him..." Hebrews 5:8-9